Wedding trends can be fabulous or frightful.  Remember the year of the black wedding dress or the season of the pastel tuxedo?  Yes, I try to forget them too, but my wedding photos keep reminding me that unfortunate trends can make looking back on your day a bit embarrassing. 2013, though, is the year of a trend we can all appreciate, the signature cocktail.
Why oh why didn't someone come up with this idea a decade or so ago?  Instead of stocking a full bar, which is incredibly expensive and annoying (especially when Aunt Shirley makes the bartenders mix her special "All You Can Drink" beverage that comes with a cherry-on-top, a separate pitcher of tequila with lime, and a whiskey chaser), the bride and groom can concoct a bright and fresh cocktail of their own.  This drink can reflect the wedding's theme and color and, best of all, will cost less than a full bar.  I know "buying in bulk" is one of my favorite phrases, and whoever is paying for the wedding will be delighted with this new fad as well.
Choosing the signature drink can be done at a pre-wedding party.  The bride and groom can gather their friends and family, add vodka, gin, whiskey, scotch, etc., throw in some sweet liqueurs and juices, and voila', the special cocktail is born.  The best part is drinking all the mistakes and false starts.  Designated drivers are a must for this gathering, but just observing the festivities will be reward enough for attending.  At the end of this grueling exercise, something truly noteworthy will be created.
Here is a signature drink recipe that you can try at home.  Developed by the event experts at the Turning Stone Resort, the Bermuda Rose Martini is a drink inspired by warm weather months of spring and summer.  Known for their gorgeous landscape and bountiful amenities, the Turning Stone Resort is a popular Central New York wedding venue.  Experiment with different recipes to find the best match for your wedding.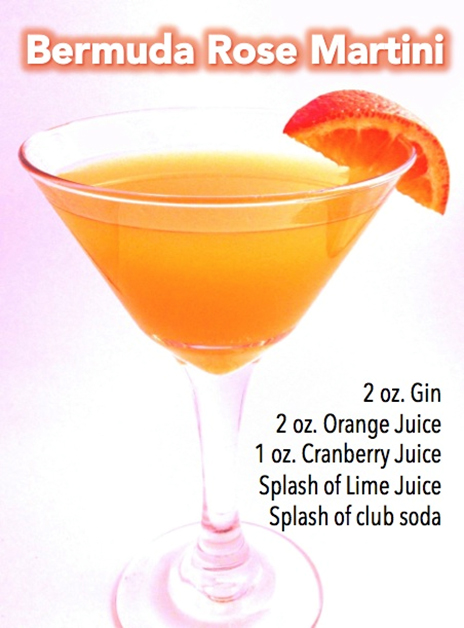 Bermuda Rose Martini
2 oz. Gin
2 oz. Orange Huice
1 oz. Cranberry Juice
Splash of Lime Juice
Splash of Club Soda
This recipe can easily turned into a "mocktail".  Mocktails are delicious, and even kids can enjoy them.  Also, the use of mock-tails at the reception lowers the chances of drunken brawls.  Aunt Shirley might not appreciate the absence of alcohol, but she will survive.

Photo credit – Babble
Bermuda Mocktail
Orange Juice
1 oz. Cranberry Juice
Splash of Club Soda
The reception will benefit from the happy couple's unique beverage.  The guests will be impressed by the novelty and delicious taste, and the money saved can be used for something special, like gifts the bridal pair registered for and didn't get. Everyone wins, and this is one trend that won't be embarrassing to remember ten or twenty years down the line.