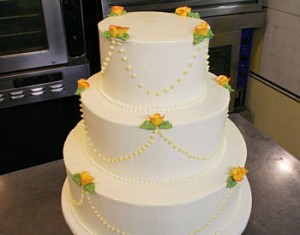 You can save a lot of money making your wedding cake from scratch! I found a delicious sounding wedding cake recipe by Sweet Melissa Patisseries on epicurious.com – Lemon Raspberry Wedding Cake. Of course, I'm sure you can also swap out cake pans for cupcake tins and papers and create a delicious cupcake tree instead!
The recipe serves 125 people, and the cake layers can be made from 2 days-2 weeks before serving. The cake can be fully assembled the day before the wedding, and kept cool.
Ingredients are..
3 batches fluffy white cake
1 batch lemon curd
9 cups (36 ounces) fresh raspberries or 3 (12-ounce) bags frozen raspberries, thawed and drained
3 batches meringue buttercream
For full instructions, visit the recipe on epicurious!
It sounds so delicious! I wish I wasn't dieting for my own wedding or I'd be tempted to test the recipe out! Please let us know if you make the cake (or cupcakes!) with this recipe, and send in some pics!