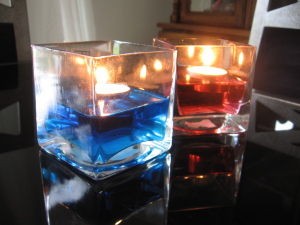 These floating tea light candles are extremely easy to create, and so very affordable too! They would make a beautiful centerpiece addition, surrounding your main centerpiece..or even used in a group (maybe in differing heights?) to be the main centerpiece. I got the idea when I was watching Get Married this morning, tried it out with some of my chunky candle holders..and it worked beautifully!
All you'll need are…
Small Clear Glass Candle Holders (Square, Round, tall, short..whatever fits the style of your day!)
Water (tap water is just fine!)
Food coloring in your choice of colors to fit your wedding theme
Small tea light candles or small floating candles (I used plain old tea lights!)
Now all you need to do is fill each of your candle holders with a bit of water and add a drop of food coloring. A little bit of color goes a long way, I only used one drop per holder! If you put in one drop and still want to go darker, add another drop and stir. If you add too much you can always pour it out and start over again!
Once you achieve the color(s) you like in each holder, gently place your tea light or floating candle into the water and you're done! Just light the candles and they are ready to glow all night!
If you like, you can fill an empty gallon milk carton with water and add food coloring drop by drop to get the color you like. Then just bring the gallon(s) of colored water, candles and candle holders to your ceremony/reception site so you can quickly set your candles up there (or get your friends or family to do it! You'll probably be busy getting beautiful.. 🙂 )
That's it! Have any ideas to make this project more unique please comment! And, as always please send in your pics if you create this candle project.