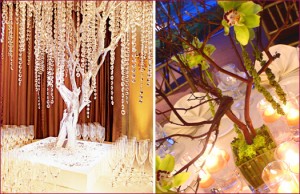 Manzanita branch trees have been growing in popularity in the wedding scene  as both beautiful centerpieces and stunning decor (like a manzanita wish tree!).  Tree centerpieces and decor give your wedding an ethereal, whimsical beauty that can give your wedding a modern fairy tale feel or even a lush green forest!
Buying them already made can be quite costly.. So why not make them yourself? The branches aren't exactly cheap -BUT- it is much cheaper than buying the whole tree already completed. You could also skip using manzanita branches altogether and gather branches from your backyard for an even cheaper alternative! 🙂
You will need (for one tree):
Manzanita Branch(es) or branches you have gathered in the park/backyard (Make sure you allow them to dry out a bit before building!) Also – If you plan on hanging heavier objects from the branches (like votives) make sure the branches you have collected/purchased are strong enough to hold them without breaking. You don't want your guests attacked by falling candles!
Container to use as a base of the tree (A pretty wide mouth vase, a cute pail, a clean flower pot…Use your imagination! Just make sure the mouth of the container is wide enough to allow arranging of the branches.)
Something to keep the branches in place (I have seen marbles, river rocks, floral foam, aqua beads, etc!) If you use floral foam you will want to hide the foam with marbles, rocks or moss when you have finished arranging.
Optional: Silver/White paint(or any color you like!), Glitter paint, Glitter & Glue (If you do not want to leave the branches in their natural state!)
Things to hang/decorate the branches – The possibilities are endless! Butterflies, silk or preserved flowers (preserved orchids would be stunning!), strands of crystal, lush amaranthus, fake petals strung on fishing line, lights and even hanging votives if the branch can handle the weight! Little squares of pretty paper would also look pretty for guests to write their wishes and advice upon to hang.
Let's get started! It's SO simple 🙂
First, if you plan on painting or glittering your branches do this first! Spray paint them in pretty metallic silver or a clean white…You may need more than one coat of paint! Then, add some glitter paint or glue on crystals/glass glitter as well if you like! (Which would be stunning for a winter wedding!) To be safe it is best to allow the branches to dry overnight before moving onto the next step. If you are leaving the branches natural skip to the next step! 🙂
Add your river rocks, marbles, aqua beads….(whatever you plan on using!) to the container. Add the branches and play around with them until you get them to look the way you want them to look. You may also choose to hot glue floral foam into the bottom of your container and then arrange the branches in the foam. Then just hide the foam with moss, crystals, rocks or marbles!
Now all that is left is to decorate them! Glue on silk flower and butterflies, drape sparkling strands of crystals or strands of flowers, hang votives..etc! So gorgeous! 🙂
That should do it! Whether you make one tree or multiple trees for centerpieces I'm sure your guests will be impressed by their beauty…and you can say you created them yourself!
For further inspiration I found this fantastic video on youtube to help you make your tree: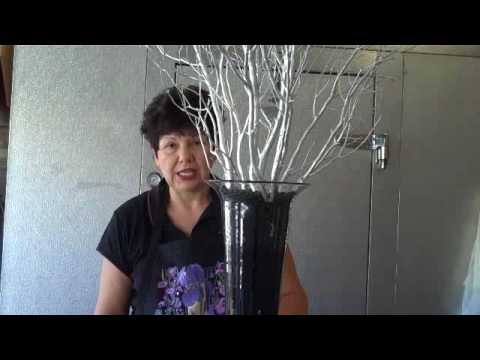 As always please share your photos if you create your own – we'd love to see!
(Photos from Nettleton Hollow Blog and Real Simple Magazine Article)