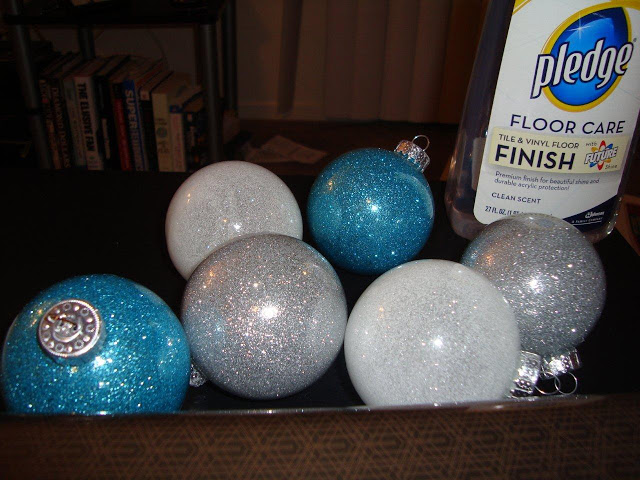 image courtesy: Crafts & Confections
The Holidays are here and while everyone is bustling around in preparation of get-togethers with family some of you are lucky enough (or crazy enough? hehe) to also be getting married during this wonderful time of the year! If you are having a holiday or winter themed wedding, party or event one of the simplest and yet most beautiful favor or decor ideas are ornaments. Whether your event theme will be red and green, silvers or blue or even something completely your own these DIY Glitter Ornaments can be created to fit anyone's color theme AND anyone's budget!
All you need are a few ingredients –
Rubbing Alcohol
Fine Colored Glitter in your choice of color(s)
(If you are making a lot of ornaments I highly recommend buying in bulk from somewhere like KitKraft to save you some money!)
Pledge Floor Care Multi-Purpose Finish OR Water based Polyurethane (Like Minwax or Varathane)
Glass or Plastic Ornaments (Both work great!)
Optional: Ribbons, Scrapbooking Stickers, Gemstones and Glue etc. to add some extra sparkle or details to your ornaments
Ready? Let's Glitter!
For best results it is best to clean your ornaments with some rubbing alcohol before starting. Remove the top of the ornament and then just pour a little inside your ornament(s), swish it around and pour it out. Allow them to dry for a few hours (upside down in small disposable cups works wonderfully!)
Now, all you need to do is pour some of your floor wax or water based polyurethane into your ornament, swirl it around and pour the excess back out into the container.
Then add some glitter and swirl around until fully coated. Allow to dry and replace the top of the ornament.
Then if you like add some ribbon, some gems or if you have a steady hand you could always paint your names, a little monogram or your wedding date. I think they could also look really pretty painted with themed words like Love, Cherish, Hope and Sincerity…or maybe words that define you and your relationship!
SUPER easy. SUPER gorgeous! Your guests will love having such a beautiful take home for their tree or holiday decor and they will remember what a wonderful time they had at your wedding or event every time they pull it back out around holiday season.