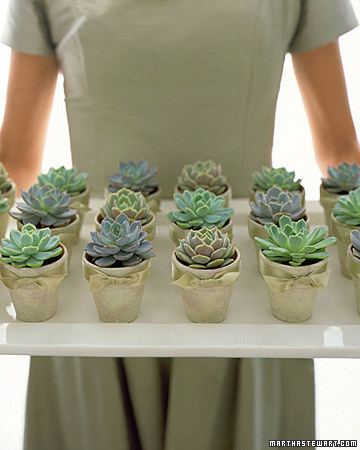 photo credit – MarthaStewart.com
As summer comes to an end I am always sad to say goodbye to my garden until next year. I'm sure many of you feel the same way when you wrap up your gardening and planting in the fall and look forward to another spring! But what if we could enjoy tending to plants year round? That's where succulents (and cacti!) come in! They are hardy little plants that just need sun, good drainage and a little water once in awhile and grow great indoors. Since they are so easy to care for and long lasting they make perfect take home favors for your wedding guests. Then they too can enjoy a little gardening year round and think of your beautiful wedding or event each time they tend to their potted succulent plant.
You don't need much to create these potted succulent wedding favors. With just a few materials you can create a bunch of these plant cuties and customize them to fit your wedding theme too!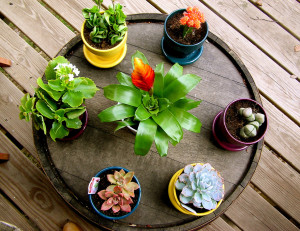 photo credit – valkyrieh116 on flickr.com
You will need –
– Succulents (You can find them often at local garden stores such as Lowes and Home Depot but you can also find them online! Check out – The Succulent Source on Etsy, or Amazon (Like this collection of 36 mixed succulents or this collection of 128 of them!))
– Small 2″ or 3″ Terra Cotta Pots or Mini Pails/Buckets (Both can typically be found at crafts stores like Michaels or on the Oriental Trading Website). If you go with the pails it is best to drill small holes at the bottom of each so they have good drainage which is essential for plants like succulents!
– Decorative Moss
– Potting soil (They make a kind specific to succulents and cacti but any potting soil will do in a pinch)
– Acrylic Paint and PaintBrush/Sponge (Optional – In case you want to paint your pots before assembling!)
– Ribbon and/or Twine (For wrapping your pot or pail)
– Hot Glue Gun or Glue Dots (Helps keep the ribbon or twine wrapped around the pot/pail in place!)
– Newspaper (Optional – to protect your work area from the mess!)
– Hang Tags or small labels with your names and event date or monogram (Make them yourself or I can create some for you – just visit my stationery and paper product design website weddingsnwhimsy.com for details!)
Let's get started!
If you plan on painting your pots first pull out your paint and brush/sponge and do this first and allow them to dry.
If you are wrapping the pot or pail with ribbon wrap a piece around your pot or pail and cut to size allowing a small overlap. Remove the ribbon and measure how long it is so you can cut a bunch of ribbon strips to size all at once to speed up your process!
Wrap your pot/pail with ribbon. It helps to put a little dab of glue (or glue dot) on and press one end of the ribbon into it to secure and then wrap and secure it with another dot of glue.
Spread out your newspaper and put a little bit of potting soil into each container. Then gently remove succulent from its container and place it into it's pretty new home.
Gently water your little succulent so it has a little drink before heading on its journey to a new home!
Add a little more potting soil and/or decorative moss around the top to fill in and hide the roots.
Wipe off any dirt or smudges on your pot/pail that may have occurred while planting with a damp cloth or sponge.
Attach your custom label over the ribbon (covering the seam works best!) or wrap a string of twine around the container with your tag hanging from it and tie. You may want to add a tiny bit of glue behind the twine to secure it as well!
Just repeat the process for each potted succulent you plan on creating for your guests and you are all set! Place them in pretty rows on a table or tray to look like a little garden or place them at the tables as part of the table setting to add a unique touch. You could also use them as place cards or escort cards and put the guests name and/or table assignments on the labels or hang tags. Adorable!
As always if you use this tutorial to create something spectacular     for your big day please send in your photos! Would love to see (and maybe share with the world too!)