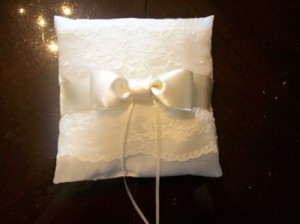 If you are having a ringbearer at your wedding (and I'd assume you probably are!), you are going to need something for him to carry the rings(or faux rings..) down the aisle. While browsing around online, I found fantastic DIY instructions for making your own ringbearer pillow from scratch on Weddingbee by Miss Spring Roll. If you have the time to make one, it's definitely something you can create to save some money and further customize your ceremony.
Her tutorial helps you to create an elegant lacy pillow using silk fabric, chantilly lace, ribbons and fiber fill.
To see the full tutorial, complete with pictures visit Miss Spring Roll on Weddingbee!
What I love about this detailed but simple tutorial is how easy it really makes it for us to create our very own custom ringbearer pillow. You could use colored fabric or ribbon that would compliment your wedding theme colors instead of sticking to just plain white or ivory too!
Make sure you send in pics if you sew your own adorable pillow, we'd love to see!