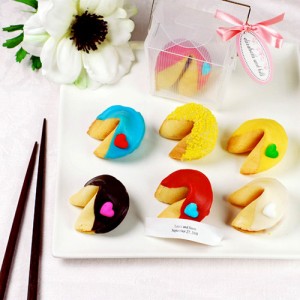 Fortune cookies are always one of my favorite parts of ordering chinese take-out..Who doesn't love the fun of reading a random, fun fortune and eating a delicious crisp cookie along with it? I found a delicious well-reviewed diy fortune cookie recipe on the food network for some yummy fortune cookies that would make perfect wedding favors!
You will need…
(Makes 6 cookies..You will need to multiply the recipe depending on how many cookies you will need.)
2 egg whites
1/3 cup sugar
4 Tbsp melted butter, cooled
1/2 cup flour
1/4 tsp salt
1/2 tsp almond extract
1/2 tsp lemon extract
2 1/2″ x 1/2″ fortune strips (Already printed, cut and ready to go!)
Optional: Food Coloring
Optional: Chocolate and sprinkles/nuts/colored sugar (SugarCraft has a huge variety of colored sprinkles!)
Let's get baking!
Preheat oven to 350 degrees F. Grease a cookie sheet thoroughly.
Whip the egg whites on low speed until light and foamy. Blend in the sugar and continue to beat until soft peaks form.
Pour in the melted butter, flour, salt, and extracts; mix until well combined. If you want to color your cookies add a drop of food coloring to the batter and mix well!
Drop a tablespoon of the batter onto the prepared cookie sheet. Using the back of a spoon, spread the batter evenly into very thin 3-inch rounds. Alternatively, use the lid of a jar with a 3-inch circle punched out as a template, pour the batter in the ring, and remove. Because you must work quickly to shape these cookies, bake just 3 at a time.
Bake for about 5 to 8 minutes or until the edges are a light golden color.
Optional Step – Once cooled you may decide you want to dip your yummy cookies in chocolate and then either roll the dipped cookies in fun sprinkles, crushed nuts or colored sugar. If this is the case melt your chocolate in a double boiler or microwave following the package instructions. Then just dip, roll and place on a piece of wax paper to cool! Sooo delicious! Plus, you can further customize the cookie favors to your wedding theme by dipping them in colored chocolate to match or rolling the dipped cookies in sprinkles or sugar to coordinate with your wedding. Maybe you'll get a little crazy and do both! Heehee.
Once your cookies are cooled off and the chocolate has set just wrap them in a little cellophane bag or favor box, tie on a pretty ribbon and add on a cute favor tag! Your guests will love these homemade treats and they will be so impressed you made them yourself!
Some tips….
Visit Fancy Fortune Cookies for some wedding themed fortunes for your fortune strips!
Make sure when you drop the batter on the cookie sheet it is spread very thinly. If it is too thick you will not be able to fold them!
When pulling the cookies out of the oven work quickly! If you allow the cookies to cool they will crack and crumble when you try to fold.
If the cookie is too stiff or brittle when trying to fold place them back in the oven 2-3 minutes and try again!
Place cookies in a muffin tin after folding to help them keep their shape when cooling.
Practice makes perfect! Be prepared to have some screwy cookies at first until you get the hang of it 🙂
Lastly – If you have issues with the recipe or are tight on time you can by prepackaged fortune cookies, unwrap and just dip them in the chocolate and sprinkles to skip the whole baking process. They may not have wedding fortunes but it will obviously save you a lot of time! Then just wrap up and tag and you are set! 🙂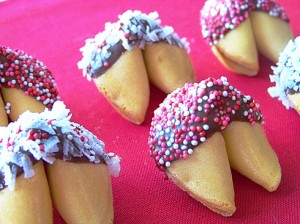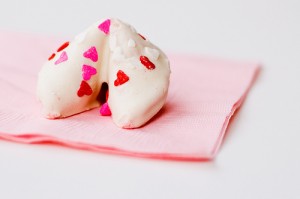 Recipe modified from Foodnetwork.com, photo credits: nofussfabulous

Share...


0

0


0

0

0