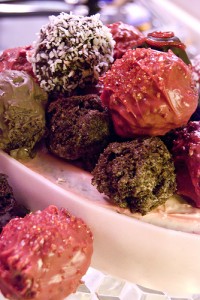 Credit- Carol Browne on flickr
Cake balls are a yummy treat that have been around for a little while but has been gaining a lot in popularity the past year. And why wouldn't they? These delicious little cake ball bites are both yummy and snack size..making them perfect for a delicious wedding favor, something pretty for your wedding treat table or something fun for your kid's table.
There are so many different options and variations on these cake ball treats that I'm sure you can find one (or two..or three…) that will fit perfectly into your big day edibles. Your guests will love these tasty little treats! The cake ball recipe below is so easy.. Let's get started!
Wedding Cake Balls Recipe (Can be made into Lollipop Cake Balls or Cake Pops too!)
You will need…
1 18.25 ounce package of cake mix
1 16 ounce container of prepared frosting
Chocolate for Melting and Dipping
Wax Paper
Toothpicks
Optional – Lollipop Sticks if you are making cake pops, Parchment Piping Bag to pipe melted chocolate
Optional – Sprinkles, Chopped Nuts
Optional – Mini Chocolate Chips to mix into the cake and frosting mixture
Optional – Flavored Extract such as peppermint to add to the cake/frosting mixture (Be creative!)
First, bake the cake as directed on the box and then crumble it into a large bowl. (Some people recommend trimming off the edges to make crumbling easier!) Allow to cool just slightly.
Stir in frosting (and optional mini chocolate chips) until well blended. (You can do this by hand or using a hand mixer) Add half of the frosting first and then add more as necessary (Sometimes only half of the frosting is needed to make a nice tacky mixture without being too mushy!)
Put mixture into the refrigerator for at least 3 hours. Overnight is fine too! This makes rolling them into balls much easier.
Once the mixture has been cooled line a baking sheet with wax or parchment paper (aluminum foil is fine too if you do not have wax/parchment paper). Then use a melon baller or small cookie scoop (or your clean hands!) to form small balls of the cake and frosting mixture. Place on the lined baking sheet.
Freeze the balls for an hour or two. (If you are short on time you can skip this step but it makes dipping them in the chocolate much easier and cleaner!)
Before removing balls from the freezer melt your chocolate.
Remove balls from freezer. Stick them with a toothpick and dip in the melted chocolate. Use a second toothpick to gently push the ball off the first toothpick and onto baking sheet lined with parchment paper. (If the balls slide off the toothpick into your melted chocolate they weren't chilled long enough in the freezer!) If you are making Cake Pops stick the ball with a lollipop stick instead of the toothpick and allow to stand on the baking sheet.
If you are adding sprinkles or chopped nuts and candies do so now!
Put in the fridge to set!
If you are drizzling or piping melted chocolate onto the chocolate coated balls do this after they have had time to set in the fridge and then put them back in the fridge to set again.
That's it! You'll have a bunch of yummy cake balls you can wrap in transparent bags with ribbon, place into clean white boxes with a specially designed label or pile them high on a pretty plate to serve to your ravenous guests!
I know you'll have a great time coming up with a delicious combination of cake mix, frosting, chocolate and sprinkles to perfectly suit your wedding day. Here are some ideas to get your creativity brewing!
German Chocolate Cake Mix – Pecan Coconut Frosting – Chocolate Almond Bark
Chocolate Cake Mix – Chocolate Frosting – Dipped in Milk Chocolate sprinkled with Andes Candy Bits (Like Girl Scout Thin Mints!)
Strawberry Cake Mix – Vanilla Frosting – Dipped in Dark Chocolate(Like chocolate covered strawberries!)
French Vanilla Cake Mix – White Chocolate Almond Frosting – Dipped in White Chocolate
Chocolate Cake Mix – Butter Cream Frosting – Dipped in Milk Chocolate
Cherry Chip Cake Mix – Cream Cheese Frosting – Dipped in White Chocolate
Fudge Cake Mix with Peppermint mini chips mixed in – Fudge Frosting – Dipped in Dark Chocolate
Lemon Cake Mix (Optional mix in mini white chocolate chips) – Lemon Frosting – Dipped in White Chocolate
Red Velvet Cake Mix – Cream Cheese Frosting – Dipped in Milk Chocolate
Carrot Cake Mix – Cream Cheese Frosting – Dipped in White Chocolate
If you use this recipe to make your own delicious wedding edibles be sure to send us some photos! We would love to feature your work 🙂
And on a personal note – Sorry I haven't updated in so long! I promise I haven't forgotten about the site. My hubby and I were lucky enough to have our first baby 6 weeks ago so I had been consumed in the pregnancy and now taking care of our little goober. I will continue to update as often as I can though..The site hasn't been abandoned! 😀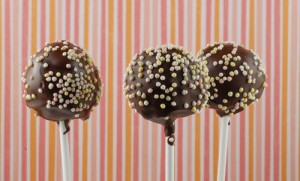 Credit – Elena's Pantry on flickr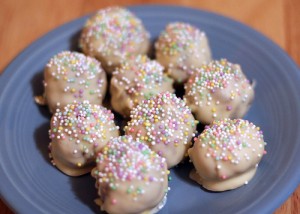 Credit – freakgirl on flickr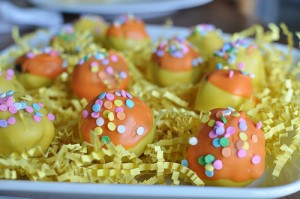 Credit – gesika22 on flickr
Share...


0

0


0

0

0