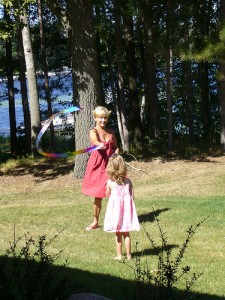 Ribbon wands (or ribbon streamers) are an adorable flower girl accessory for any wedding. They are extremely affordable to make, beautifully customizable, and do not require much work or effort on your part! Plus, your flower girls will -love- them! They will entertain themselves swirling and twirling their little ribbon fairy wands about..making great photo opportunities! They are however only recommended for flower girls ages 5 and up! Best to be safe than sorry.
Materials You'll Need…
Ribbon in your desired length, Silk & lame work nicely! Take the size of your flower girl into mind – 6 foot ribbons look absolutely beautiful and are ideal, but if your flower girl is tiny, this may be way too long. Shorten as necessary! 3-4 feet of ribbon works well for a smaller child. Ribbon width is just a matter of preference, 1.5″ seems to be a general size though.
Wooden Dowel Rod (for handle)
Hammer
Snap Swivel Hardware (this is actually fishing gear, check the sports/fishing area of your local Walmart, target or Dick's to name a few! Click here for an example of what they look like)
Small Flathead Nail (NOT finishing nail!)
Sandpaper
Optional: Paint, Charms for Embellishing
The steps to creating your wands are pretty simple! Here we go!
Gently sand your craft dowel until smooth. You don't want your little flower cutie to get any splinters! If you plan on painting your dowel to further customize the wand to your wedding theme..do so here! Acrylic paints are extremely cheap (around $1.00 or less) and come in a large variety of colors..so they would work wonderfully! If you do decide to paint the dowel, allow proper time to dry before continuing on to the next step.
Next, get your hammer, small flathead nail and swivel snap. Nail the swivel snap to the top of your dowel rod. (You are nailing the smaller circular end to the rod. The larger snap area is where your ribbon will be threaded!) Make sure you nail directly in the center of the dowel rod to ensure fluid ribbon movement, and that the nail is very secure.
Finally, thread your pre-measured/precut ribbon through the larger snap circle of the swivel snap and make a secure knot. Trim the ribbon as you see fit visually. If you like, you can add another ribbon in the same fashion, in another color. For instance if your wedding colors are black and pink..a black and pink ribbon wand could look adorable! You may, however, want to shorten the ribbons a bit to make up for the additional ribbon weight (for easy whirling and twirling!). If you'd rather stick to one ribbon, but still want to incorporate two wedding colors, have one color for the ribbon and paint the wooden dowel in the second color! It's all up to you!
Lastly, if you should decide to further embellish your wand to match your wedding, you can do so here! Jewelry charms attach very easily to the swivel snap hardware you tied the ribbon to! Snowflake charms, butterfly charms..even seashell charms would add an additional adorable detail to the ribbon streamer.
Please Note: If the use of a hammer, nail and swivel snap hardware sound like to much for you, you can bypass that and just glue one end of the ribbon to the tip of your wooden dowel rod with a very strong super glue. This will, however, not look as finished and is much more likely to fall apart than if you did it the way above! Just a warning/tip!
That's it! It's an extremely easy DIY craft for your big day, and your flower girls will love their whimsical accessory! Please be sure to send pictures our way if you make your own custom flower girl ribbon wands using our instructions..we would -love- to see them!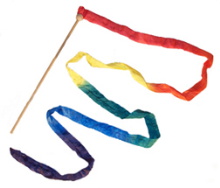 Share...


0

0


0

0

0