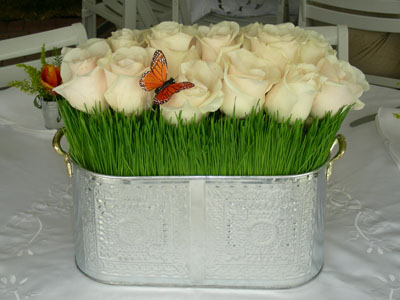 Wheat grass is extremely easy and inexpensive to grow. It looks great alone or with some added flowers (roses for instance…as seen above!) creatively tucked in here and there. It makes a great living centerpiece for a spring or summer wedding, especially if you are going for a garden wedding theme..or simply going green!
To make your own centerpieces, you'll only need a few things..and a 2-4 weeks of time! You will need some pretty containers for planting the grass in, some wheat grass seeds (found in a health food store or online at websites such as wheatgrasskits.com – 10 pounds of seed should make 25 small centerpieces), and some soil (miracle grow potting soil works great!). If you are adding flowers you will also need flower tubes, flower preservative and fresh cut flowers (preferably bought within a few days of wedding). Silk flowers may also work..it's worth a try, and you don't have to wait till right before the wedding to add them! Ready? Let's get started….
Wheat grass seeds are sometimes prone to mold, so some choose to soak their seeds in water and mold control solution for no more than eight hours before planting. Mold control solution can be found at most garden centers or nurseries. (This is however optional, your seeds may not mold at all!) If you do soak your seeds, be sure to rinse them well before planting or the solution may stop your seeds from sprouting.
Fill your container(s) with soil until the soil is about 2 inches from the top of the container and moisten well.
Scatter your wheat grass seeds evenly across the moist soil all the way to the edges. Press the seeds down firmly, and then mist the seeds with a fine spray of water.
Now just wait! Within a couple of days to a week and a half your grass seeds will begin to sprout. Once the sprouts have grown an inch or two, move your containers to a bright spot, such as a south facing window.
Within 2-3 weeks your beautiful centerpieces will be thick with bright green wheat grass(4 inches tall!) and ready for your big day! If you need to trim the grass, that's fine! Just grab some sharp scissors and give it a haircut. 🙂
If you decide you want to further your centerpieces with flowers you will now need your fresh cut flowers (tulips, roses, daisies, lilacs for example), and flower tubes. Cut your fresh flowers with a sharp clean knife or pruners at a height that would allow them to peek out of the grass.
Slide them into your flower tubes (filled with premixed water and flower preservative) and place them in your centerpiece(s).
Here are some more beautiful examples…
That's all you need to do to have extremely inexpensive, diy centerpieces! Make sure you send me your pictures and takes on this diy centerpiece craft..I can't wait to see how they turn out!
Share...


0

0


0

0

0