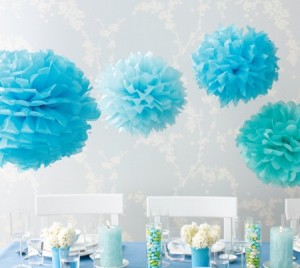 Tissue paper pom-poms are a beautiful decor addition to any casual wedding reception or bridal shower. They are just as unique, colorful and classy as the circular paper lanterns..except they are much more affordable! Hung at varying heights from the ceiling, these large paper flowers will make your wedding theme colors completely POP! With only a few materials and some practice, you can easily make these wonderful decorations for your big day.
You will need…
Tissue Paper in Your Choice of Colors or Patterns – 17″ x 30″ for Medium Pom-Poms and 20″ x 30″ for large Pom-Poms, 8-11 Sheets per Pom-Pom Ball (the more sheets, the fuller the ball)
24 gauge floral or craft wire – About 6 inches of wire per Pom-Pom Ball
Monofilament or string for hanging
Scissors
Now you're ready to make some poms!
Stack 8-11 sheets of your choice tissue paper(s) and make 1 1/2″ wide accordion folds, creasing with each fold. You can either make the ball one solid color by stacking 8-11 sheets of the same color tissue..or it may be neat to stack 2 varying colors (pink/yellow/pink/yellow) to incorporate multiple colors in one ball!
Fold a 6 inch piece of wire in half and slip over the center of the folded tissue and twist to secure. With scissors, trim the ends of your folded tissue into rounded or pointy shapes.
Separate the layers, pulling away from the center one at a time.
Tie a length of monofilament or string to the floral wire twisted in the center for hanging.
That's all you need to do to make these affordable, gorgeous pom-poms! Repeat the process as often as you need to fill your whole room with pom-poms of all colors and sizes. Fantastic! I'm definitely going to hng these at the reception of my tent wedding next summer. I hope you'll share pictures and suggestions if you like this project and make some of your own!
credit: Martha Stewart.com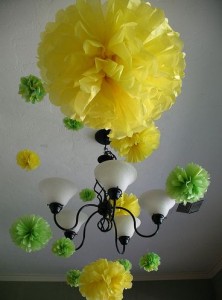 credit: casaazul on flickr.com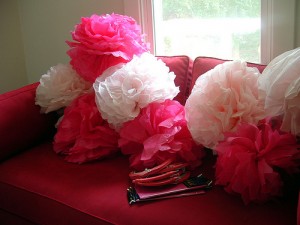 credit: amandabel on flickr.com
Share...


0

0


0

0

0