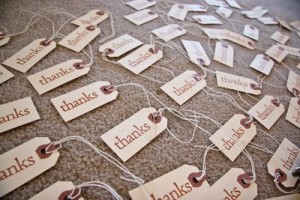 credit: Miss Cherry Pie on WeddingBee
If you are looking for a really cheap and affordable way to customize your favors, hand-stamped favor tags are the perfect solution! The tags can be tied to a multitude of favors, such as bags of cookies or candies, filled favor boxes and more.
You can buy the tags at your local Officemax or Staples office supply store for only $4.99 per 100 tags! Then you can customize the tags with your choice of stamps. There are millions of different stamp designs available if you scour the web and your local craft stores. You can even order custom stamps online that may include your wedding date and/or the names of you and your fiance.
Some stamp design ideas…
Simple "Thanks" Stamp
Starfish
Butterfly
Snowflake
Moon or Stars
Variety of Flowers
Monogram or Letters
The project is so easy there really isn't any need for step by step instructions! All you'll need are…
Paper Shipping Tags
Stamp(s)
Ink Pad (Choose colors that compliment your wedding theme or favors!)
Just lay the tags out, dip your pretty little stamp in the ink pad and stamp away. It's so easy, but the results are simply stunning. Chic and classy..and you hardly spent a thing! You may choose to further customize your tags by attaching ribbons or string that further compliment your theme and favors. If you're feeling really ambitious, adding some color to the stamped designs with colored pencils can turn out really nice!
Note: If you like your handwriting and/or drawing skills you can skip the stamp and decorate each tag by hand. Just buy a pretty pen at your local craft store (the scrapbooking section would have a huge variety of pretty pen options!) and let the creative juices flow!
What designs do you think would look fantastic stamped on these tags? What are you tying them to? We'd love to hear! 😀

credit: deeljea on flickr.com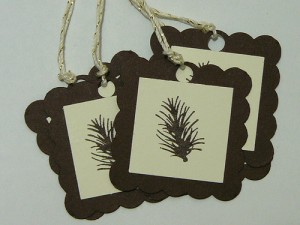 credit: deeljea on flickr.com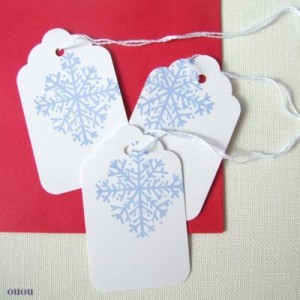 credit: everything.in.blue on flickr.com
Share...


0

0


0

0

0