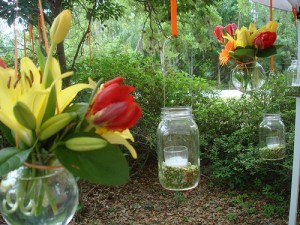 credit: ThalloDesign on flickr.com
Do-it-yourself hanging jars are an extremely affordable project you can incorporate into your wedding! Very few materials are needed, they cost hardly anything and they can be created in minutes. Once completed they can be used either with candles to make glowing lanterns or with fresh flowers to make hanging colorful vases. They can also be customized beautifully with ribbons and trinkets to fit your theme..and a multitude of items can be put into the jar to further add to the customization.
Here's what you'll need:
Jars (Any size will do as long as they have a rim. Any color will do too if it will fit into your theme!)
Your Choice of (choose one, or mix them up jar to jar):
– Fine gauge metal wire, wire cutters and needle nose pliers OR
– Ribbon/String/Raffia and Scissors
Tealights/Votives OR fresh flowers (daisies, dahlias, whatever you like!)
Optional: Fillers for the jar such as sea salt, gravel, marbles, dried peas, sand and shells, candy sprinkles, river rocks..etc. (Be creative but keep in mind – what you choose here also depends on if you are using the jars with candles or flowers… Salt would work wonderfully for candles, not so much with fresh flowers!
Let's get started 🙂
First, you will need to measure how much wire or ribbon/string will be needed to loop the rim of the jar and also create a loop for hanging. To do this, if you are using wire – wrap your wire around the rim, loop it up to create a handle and back down to the opposite side of the jar. Add an additional inch and cut. If you are using string/ribbon/raffia – Cut enough to wrap around the rim of the jar twice and leave you a handle of your preferred length. Add a few inches and cut.
If you are using wire (skip this step if you are not!) – Wrap your wire around the rim of the jar just under the lip, forming a ring.  Using your pliers, twist the wire close to the jar to secure.  Be sure to leave a little room in the ring to allow for attaching of the wire handle!  Bend the excess wire  over the top of the jar and attach them to the metal ring  looped around the rim, securing with your pliers, to create the handle.
If you are using string/ribbon/raffia – Wrap the string twice around the rim of the jar and knot tightly, making sure you have secured the loop beneath the lip of the jar. Loop the long end of the string up and around for your handle (the more you leave here, the longer the handle will be!), securing it tightly to the opposite side of the jar by knotting it to the loop you tied securely around the rim. If you have enough left over, wrap the remaining string/ribbon/raffia around the rim of the jar again for extra security, and knot. Trim excess!
Now that your jars have secure handles, its now your time to customize. If you are adding candles, filling the jars with sand, salt or the like can look beautiful. River rocks or marbles with fresh flowers can look great too. Or, go even simpler and add a touch of food coloring to the water your flowers will be in for additional color. Another idea could be adding charms that coincide to your wedding theme to the rim with a ribbon or even taking some craft paint and painting little designs here and there on the jar..(little ladybugs would be adorable..or stars!)
That's it! The jars will look fabulous any way you decide to use them. Hang them from shepherd hooks down the aisle, tree branches or even fake tree centerpieces IF the jars are light enough for the branches to support. (Think baby food jars with tealights!)
Note: Please make sure if you are creating the lanterns and lighting candles and using anything other than wire make sure the string/ribbon cannot catch fire. Safety first!
Please make sure you e-mail us ALL of your pictures if you use this project to create these beautiful hanging jars. We'd love to see your gorgeous creations! 🙂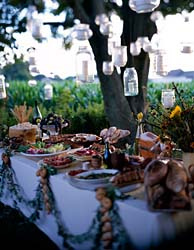 credit: keri and kevin on flickr.com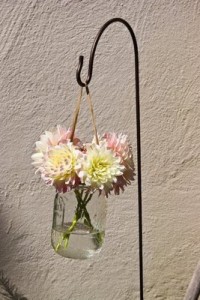 credit: Mrs. Cherry Pie on WeddingBee

credit: the adventures of f & j on flickr.com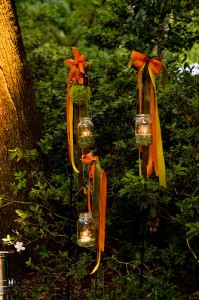 credit: ThalloDesign on flickr.com
Share...


0

0


0

0

0