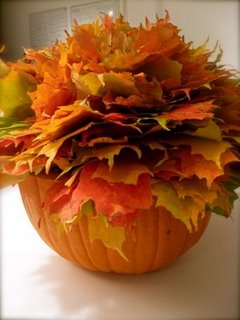 David Monn (a Nyc event designer) was on the Martha Stewart yesterday and he did a wonderful presentation of easy fall table decor that I thought would also work beautifully in some cases for a fall themed wedding! One of his wonderful creations was a perfect autumn centerpiece, a pumpkin filled with colorful autumn leaves. It's an extremely easy centerpiece to assemble, and also extremely affordable this time of year – especially if you have rich autumn leaves laying all over your yard or park that can be used for free!
Here's what you will need…
Low, Squat Pumpkin (if you want this to be a nonperishable centerpiece, the craft pumpkins would probably work from the craft store too as long as its low and squat and can be scooped out into a bowl!)
Fall leaves from outside, pick a rich variety of colors – reds, yellows, orange and green! (like with the pumpkin, if you want them to last you can use silk leaves from your craft store)
Carving knife
Floral foam (Oasis)
Floral Wire
3 inch floral sticks
Now let's start!
Cut your pumpkin in half, scoop out the seeds and carve your pumpkin into a bowl.

Cut your floral foam to fit inside your pumpkin bowl and push into your pumpkin.

Attach five leaves of different sizes to a floral stick using floral wire to form a branch.

Push your branch into your floral foam and repeat until the foam is completely covered. You will end up with a pumpkin bowl with an overflowing colorful abundance of crisp leaves.
Now just repeat as needed until you have the number of centerpieces needed for your reception! These would also look beautiful as randomly placed decor throughout your ceremony and reception. Maybe place one near the guest book, or a couple around your altar! It would bring the beautiful crisp autumn colors into your big day to compliment a wonderful fall theme.
Credit: Martha Stewart and David Monn for the idea and images!
Share...


0

0


0

0

0