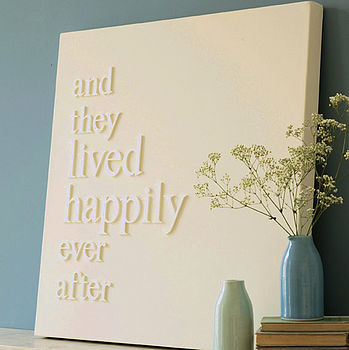 Browsing Pinterest I came across a beautiful canvas art piece by Gorgeous Graffiti, based in the UK – A simple one color canvas with 3D lettering in a variety of lyrics and phrases. When I saw this I thought it would look fantastic as wedding and event decor and would be a really simple DIY that would be fully customizable to your event!
You could use a special quote or phrase, song lyrics…or even a relationship timeline! I thought it would look great with a snippet of lyrics from your wedding song…or maybe a set of smaller canvases at the bar "Eat, Drink, Be Married!". The possibilities are truly endless. Including the colors! Stick with the all white look or you can choose to go with one of your wedding colors (or a couple colors if you want the letters to contrast!)
All you need is…
Canvas
Glue
Wooden Letters (You can find these at your local craft store or there is a huge selection here, including custom vine monograms which would look awesome! There is also a fantastic tutorial for using puffy paints, wax paper and your own font printout here!)
Paint (Acrylic would work on smaller pieces, but a spray paint would work best on a larger project!)
If you are painting the letters a different color than the canvas you will want to paint them and allow to dry.
Take your letters and arrange them on the canvas until you are happy with how they look and glue them in place. Allow glue to dry.
If you are painting the canvas and letters one color you can now just spray or paint over the entire canvas and letters and allow drying. Apply second coat if needed! (If spray painting use long, even strokes and make sure you start and stop spraying off the canvas so you do not get pooling of paint!)
That's it! SO simple and it will be a beautiful custom piece at your wedding or party! I wish I had seen something like this back when I got married in 2009…I would have totally made one for my big day!
If you decide to make one for your wedding or event please take photos and share. Would love to see what your creative minds come up with!