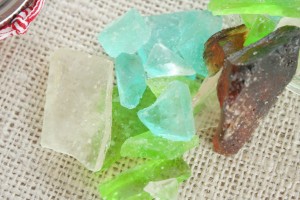 credit – Sarah Parrott on flickr
When one thinks of summer one of the first things most people think of is… the beach! What's one thing that one finds at the beach? Sea glass! That's why I thought this diy candy recipe would make a perfect wedding or party favor for those having a summer, beach or waterfront wedding or event. Like a lot of the ideas on my blog the recipe is fully customizable to give you the ability to tweak it to fit your special day. There are so many flavors and colors to choose from and also a variety of pretty packaging options!
First things first, lets start with the recipe so you can make your own sea glass candy right at home!
DIY Homemade Sea Glass Candy
2 cups granulated sugar
3/4 cup light corn syrup
3/4 cup water
1/4 to 1 teaspoon flavoring oil, depending on strength of flavor – You will want to make a test batch to get the color and flavor intensity just right! *See notes below for links to some sites with a HUGE selection of delicious flavor oil options. You can also try baking, craft or your local grocery stores!
Liquid or gel paste food color (Gel Paste Colors tend to be more intense!) Available in most craft and baking supply stores or online. *See notes below for links to sites offering a wide selection of colors.
Confectioners' sugar for dusting
Lightly grease a cookie sheet and place on a wire cooling rack.
Stir sugar, corn syrup and water in a medium-size saucepan over medium-high heat just until sugar dissolves.
Without stirring, boil until candy thermometer registers 300-310 degrees which usually takes about 30 minutes. You can test by dropping small amount into ice water; syrup should separate into threads that are hard and brittle when ready!
Immediately remove from heat and wait a minute or two for boiling to stop.
With a wooden spoon, stir in flavoring oil and food color until well blended. Immediately pour onto prepared cookie sheet.
Let cool completely, about 20 minutes.
Lightly dust slab of candy on both sides with confectioners' sugar, brushing off excess sugar.
Break into small pieces.
Store airtight. Makes 1 pound, 6 ounces(4 cups)

That's it! Make one color/flavor or a few batches of different coordinating colors to make pretty mixes! Pack them in little tins, bakery bags or bakery boxes with some pretty ribbon or twine and maybe even add a cute label or sticker with your names and wedding date, your wedding monogram, etc. The possibilities (as always!) are endless. Let your creativity explode! (Need twine or custom designed labels or stickers to personalize your yummy sea glass treats? Check out my shop website and I can help you out!)
It's so simple and delicious. The hardest part will be not eating it all up before the wedding!
*Note – Helpful web links!

credit- Sarah Parrott on flickr.com