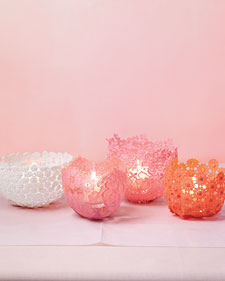 I found this beautiful (and SO simple!) project while browsing Martha Stewart's website and had to share! These Lacy Votive Holders would be such a beautiful addition to any wedding table setting for any season. I can picture brightly colored lacy votives scattered throughout a summer wedding held outside in a tent under the stars or crisp, intricate white lacey votive holders with some subtle glitter scattered throughout a winter wedding in a frosted ballroom. So pretty!
If you are feeling really ambitious (or you are having a small wedding) these would make really pretty custom wedding favors as well!
All you will need are…
Tea light or votive candles
Small Glass Votive Candle Holders (to keep the project safe!)
Rectangular pieces of lace – 5″ wide by 14-21″ long works well but practice with one first to decide on what size works best with your glass holder. The Martha site recommends guipure lace but says any medium to heavyweight lace will work. (Lace can be found in any fabric store and it can be dyed different colors to fit the theme of your wedding or left a clean white, depending on the look you are after!)
Balloons
Fabric Stiffener
Needle and thread(to match the lace)
Optional: Fabric Dye (if you are dying the lace), Glitter
Now the instructions..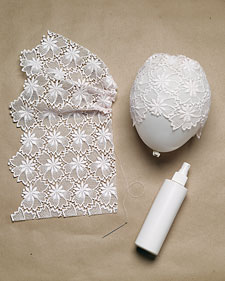 Cut lace into a rectangle in the desired size. Trim one of the long sides, which will be the top of the votive holder, following the lace's motif. Sew across the bottom with a loose running stitch and connect the 2 ends. Pull the thread, gathering the bottom into a tight circle, and knot. Whipstitch the short sides together.
Place a balloon inside the lace, and then blow it up to fit the lace's dimensions. Set the balloon upright in a paper cup so the lace form is upside down. Arrange the gathered lace to create an even bottom. Spray with fabric stiffener until saturated. Let dry.
Pop the balloon.
Your votive holder should be all set! Now if you like add some subtle glitter or leave it alone 🙂 Just slide in your glass votive holder and it is ready to light up your wedding!
These beautiful votives will look stunning scattered throughout your wedding ceremony and/or reception. Your guests will love the attention to detail and you'll love the cost and simplicity! 🙂
As always, please send in your photos if you create these lacy wedding candle holders for your big day. We would love to see! 😀
Credit: MarthaStewart.com
Credit: WonderTrader on Flickr.com