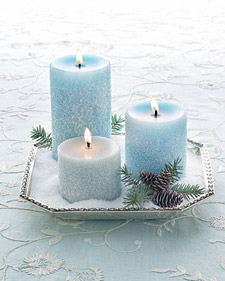 Browsing Pinterest recently I came across a pin for a beautiful centerpiece of frosty looking blue pillar candles sitting in a pretty silver tray of what looked to be snow. Clicking through I found it to be a project by none other than Martha Stewart and I was so excited to see just how affordable and simple a project it was that I had to share! I think they would make stunning, simple centerpieces at any wedding or event with a snowy winter theme.
What gives the candles their frosty look? Epsom salt! Not only does the salt give the candles their frosty appearance but it is also used at the base to give the appearance of new fallen snow. So pretty!
You could also do the project on a smaller scale and frost votive candles to make miniature versions! The votive size would make fantastic guest favors! 🙂
Here are the simple instructions (with some ideas from me added in!)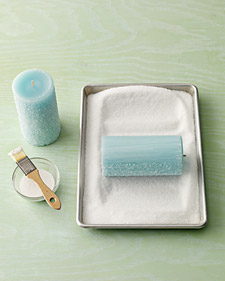 You will need:
Candles – Pillars work well grouped for a centerpiece but votive candles and taper candles would work too, depending on the set up! You can purchase candles in a color to match your theme (white, blue, etc.) OR I have seen crafters paint a white candle with acrylic paint as well!
Epsom Salts
Optional – Glitter and/or food coloring in the color of your choice to be mixed in with the salt (Irridescent snowy glitter or blue food coloring would be pretty!)
Modge Podge or Glue
Small Paintbrush
Rimmed baking sheet or tray (for rolling the candles in)
Optional – Tray, votive/candle holder to display finished candles on/in
Now the instructions – so easy!
Pour your epsom salts into the rimmed baking sheet or tray. If you would like your salts have a touch of color to them you can also add food coloring. I think a touch of blue or green would look gorgeous in a winter theme or do a few different salt trays (plain/blue/green) for some variety! (You can mix in some glitter with your epsom salts to add a little extra customization here as well if you like!)
If you are painting your candle with acrylic paint do that and allow to dry. If you purchased already colored candles skip this step!
Take your small paint brush and coat the entire surface with your modge podge or glue.
Roll your candle in the tray of epsom salts until fully covered and allow to dry.
That's it! Super easy, super affordable and completely gorgeous upon completion. Just take your finished candles and group them on a pretty tray filled with salt and accented with pine cones, winter greenery, holly, cranberries or even holiday ornaments to create a stunning centerpiece. Beautiful on guest tables or even accenting your winter wedding theme on your escort or guest book table! I can also envision frosty little votive candles lining counters or table tops – so pretty! These simple diy frosted candles will help make your wedding or event a true winter wonderland!
As always if you decide to make some frosted candles for your event we would love to see so please send in your pictures. Your work may be featured on the site!