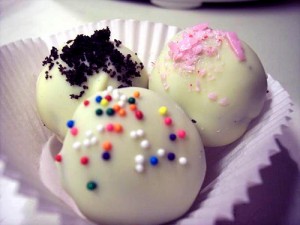 credit: rockYOface on flickr.com
Sometimes when all is said and done the bride and groom are left with a bunch of favors left behind by their guests. This won't happen if your favor is an edible! I found this delicious recipe for diy oreo truffles on the kraft website ad thought it would be a perfect diy favor idea for all of you planning your own wedding!
They only require a few ingredients so they are extremely affordable and they don't take very long to make! Here's the recipe!
Oreo Truffles (Makes 42 individual truffles!)
1 pkg. (1 lb. 2 oz.) OREO Cookies, finely crushed, divided

1 pkg.  (8 oz.) PHILADELPHIA Cream Cheese, softened

2 pkg. (8 squares each) BAKER'S Semi-Sweet Chocolate, melted (Milk Chocolate, Dark Chocolate, White Chocolate..Choose your fav!)

Optional – Candy sprinkles for additional customization – find some in your wedding colors!
MIX 3 cups of the cookie crumbs and the cream cheese until well blended. Shape into 42 (1-inch) balls.
DIP balls in melted chocolate; place on waxed paper-covered baking sheet. (Any leftover melted chocolate can be stored in tightly covered container at room temperature and saved for another use.) Sprinkle with remaining cookie crumbs. (Here is where you can also add some of your candy sprinkles to add some color! You could also wait till after refrigerating  and further decorate your truffles with different colored chocolate by piping pretty designs or swirls on top!)
REFRIGERATE 1 hour or until firm. Store any leftover truffles in tightly covered container in refrigerator.
That's it – you will only need to wrap them up for your guests! Some cute packaging ideas would be individually wrapping each truffle in cellophane (clear or colored) with a pretty bow to match your theme and a favor tag. You could also put them in pretty favor boxes!
If you make truffles for your big day using this recipe please be sure to send us the pics! We would love to see! 😀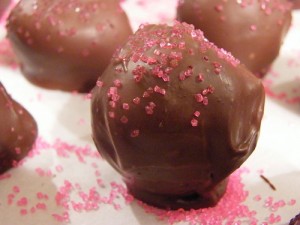 credit: talekinker on flickr.com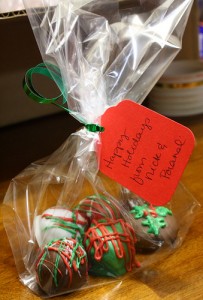 credit: ladybugbkt on flickr.com

credit: cakewalkbu3 on flickr.com