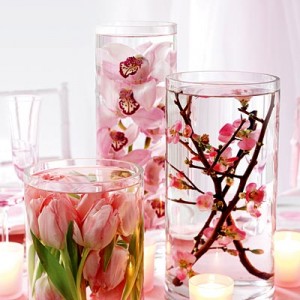 Photo courtesy of: InStyleWeddings.com
If you're looking for a beautiful, modern centerpiece that is easy on the wallet and is can be done yourself these submerged flower centerpieces  are for you! Submerged flower centerpieces have been all the rage the past year or two..and why wouldn't they be? They look so elegant and contemporary plus you don't need a ton of flowers to make a big impact. Tulips and orchids look stunning..but so can many other flowers (and branches too!).
Let's get started! You will need…
Flowers/Greenery/Branches to be submerged (Fresh or silk/latex flowers can be used..both have their own pros and cons. Fresh obviously won't last forever so they are best put together  the night before to ensure they stay fresh for the big day. Silk will never die BUT water works as a natural magnifier so if the silk flowers have frays, loose threads and flaws they will be more obvious once submerged in water. Latex seems to be used more often when a fake flower is used for this reason! Also, when using fake flowers test them underwater first before putting them into the centerpiece. Colors may bleed and you don't want that happening on your big day!) Some ideas for things to submerge: Tulips, Stem of Orchids, Calla Lillies, Ferns, Hydrangeas, Oriental Lillies, Cherry blossom branches, branches of hibiscus berries, gladiolas, roses.. etc! Avoid flowers with paper thin petals or flowers with a ton of pollen..and you'll be fine!
Pretty vase (Often tall rectangular or cylindrical ones and fish bowls are the vases of choice..but there are no rules. If you have another pretty vase you think would work well that your flowers would fit into..use it!
Stainless steel washers and/or fishing sinkers to keep the flower submerged. (Washers and sinkers come in a multitude  of sizes and weights. Use the smallest size you can that will keep your flower(s) submerged! The more flowers you submerge or the larger the flower the more weight you'll need.)
Decorative rocks, gravel, stones seashells (to hide the wire/fishing line/weights)
Floral tape (Needed if you are using multiple stems)
Floral/fishing wire or Fishing line to attach the flowers/greenery to the weights
Distilled water (Distilled water will stop the bubbles from forming on the flowers. If you don't mind the bubbles then any water should be ok!)
Optional: Floating candles, Submersible LED lights to give the vase a pretty glow
Now all there is to do is assemble!
Take your vase (make sure it is nice and clean!) and your flowers/branches/greenery and plan how you would like it to look once in the vase and submerged. This is easy if you are using only a single stem of orchids or  a single tulip but if you plan on having more than one stem you may want to practice how they will look grouped before taping/wiring/tying them together.
If you are using fresh flowers now might be a good time to give them a fresh cut (at an angle) under running water to keep them fresher longer! If you are using fake flowers make sure you test them first to make sure the colors will not bleed once under water.
(If you are using a single stem skip to the next step!) If you are using more than one stem and know how you want them grouped you can now floral tape the group of stems together to hold them in place near the bottom (You are going to want to hide the tape with rocks/stones so don't tape them too high!)
Now with your floral wire or fishing line tightly wrap around the stem(s) and then tie/attach the wire or line to the steel washer or fishing sinker. (Some flowers/branches may not need to be weighted at all..I cannot stress enough that practicing beforehand is key! A stem of orchids may push into a tall skinny vase and not budge..but you won't know unless you practice first! It all depends on the type of item being submerged and the vase being used!)
Now you can gently slide your flowers/greenery/branches into the vase, letting the weight rest at the bottom.
Next, hide the ugly washer/sinker with your decorative stones, river rocks, gems, sand..whatever you decided would be a pretty!
Now all you have to do is fill it up! You may choose to submerge the flower completely or just half way..Both can look very pretty! Just make sure the water is distilled water if you do not want the little bubbles to form on your flowers.
That's it! You may choose to leave it the way it is or you may decide to float a candle on top. Both would look very nice! 🙂
Some final thoughts..
The project itself is really simple! The biggest problem you are going to have is getting them to your venue. Some people recommend seeing if you can bring the weighted flowers, stones and distilled water to the venue the night before and set it up to avoid transportation issues. Otherwise make sure they are secure in your vehicle and not completely full of water (enough to allow the flower to drink). Finish filling them up once they are at your venue!
As always if you use our instructions to make your own centerpieces..We want to see! Please e-mail your photos to us 🙂
Photos courtesy of: theknot.com