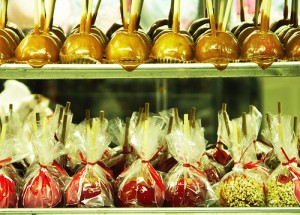 credit: mrk_photo on flickr.com
Food is the perfect wedding favor (it never goes to waste!), and what would be more perfect for an edible wedding favor in the fall than do it yourself homemade candy apple favors? These yummy chocolate caramel covered apples will leave your guests drooling when they see them at your place setting, and they are quite darling wrapped in cellophane with a colored bow to match your theme! You can even attach little tags with your names, wedding date..even your personalized monogram! They are so easy to make and can be customized in so many different ways to create a delicious favor all your own.
You'll Need…. (This recipe creates 5 apples, multiply as needed to treat all your guests!)
5 large Granny Smith apples
wooden craft/popsicle sticks
2 tbsp water
1 14 oz. package of individually wrapped caramels (unwrapped)
7 oz. chocolate candy bar broken into pieces (Milk chocolate, dark chocolate or even white chocolate will do! Or, you can do without it completely if you only want your apples covered in caramel!)
tbsp Shortening (if also dipping in chocolate, ignore if only dipping in caramel)
Goodies/topping to further decorate your treats – chopped nuts, sprinkles, coconut, chopped pieces of candy/candy bars (chopped peppermint candy or even heath bars!)
Wax Paper
Cooking Spray
Let's start!
Bring a pot of water to a boil and dip each apple in briefly to remove any wax that may be on the skin from the grocery store. Wipe dry and let cool.
Insert craft/popsicle sticks into each apple, through their core.
Line a baking sheet with wax paper and spray with cooking spray to prepare a place for your apples to cool.
Melt unwrapped caramels in a microwave safe bowl in the microwave with the two tablespoons of water. Cook on high two minutes, stir (be careful it gets hot!), and continue heating and then stirring in one minute intervals until the caramel is completely melted.
Holding each apple by the stick, gently dip each apple into the melted caramel and then carefully transfer it to the wax paper you prepared earlier. If you are going to be dipping your apples into chocolate, refrigerate for 15 minutes. If you are only dipping your apples in the caramel skip ahead to step 7 to coat your treat with nuts, chopped candies or sprinkles instead of allowing to dry and then refrigerate to set.
Next, heat chocolate in a microwave safe bowl in the microwave with the tablespoon of shortening until melted and smooth. Dip each caramel coated apple into the melted chocolate to cover the caramel and then hold apple over the bowl allow the excess chocolate to drip off.
Once you have allowed the extra chocolate to drip off, gently roll in the chopped nuts, sprinkles or chopped candies you chose to decorate your apple treats.
Set on wax paper and allow to set (If you skipped chocolate, it's best to set your apple in the refrigerator)…and you're done!
That's all you need to do to create these delicious autumn themed favors! Once the apples have set wrap them in cellophane (clear or colored to match your theme!) and tie with your favorite colored ribbon. Place one at each guests place setting or gently arrange in a big basket for your guests to grab on their way out. It's so easy to make, and they are so delicious! Your guests won't leave these treats behind and their tastebuds will thank you 🙂

credit: erica8431 on flickr.com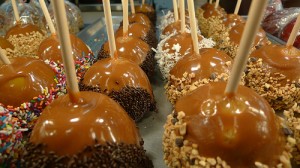 credit: eric_kilby on flickr.com