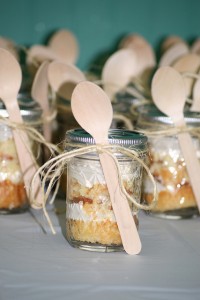 credit – ealancas on flickr.com
Who doesn't love a good cupcake? One may ask how does one improve on the idea of such a delicious sugary treat? You make it more portable by adding it to a jar! (Plus – you can add a pretty coordinating label or hang tag to match everything else at your wedding reception or special event!) Cupcakes in a Jar couldn't be more simple and your guests will love  the creativity and deliciousness in a portable pretty package.
I also love the ability to express yourself as a couple in the flavors you choose cupcake capsule! Red Velvet and cream cheese frosting? Double fudge chocolate with classic vanilla butter cream? It's all up to you. Don't even get me started on sprinkles and toppings! 😀
You will need –
Cupcakes baked without liners
Frosting
Sprinkles/Toppings (Optional)
8 oz. glass jars with lids – Find some here (Ball Jars could work nicely here too!)
Wooden Spoons – Find some here
Bakers Twine, Jute Twine or Raffia (to tie the spoon on!)
Pastry Bag (Or ziploc bag) and decorative tips
Knife
Let's get started! First you need to bake your cupcakes. Use any cake mix or cake recipe you want! Maybe there's a family recipe you could use to add to the personalization of your favor!  Just mix up the cake batter and spoon it into cupcake pans sprayed with non-stick spray. (Fill each cupcake cup about 2/3 of the way with batter!)
Unsure what cake recipe to use? Here are some delicious sounding high rated recipes to try:
Bake your cupcakes according to the recipe or package directions. Then allow your cupcakes to fully cool and slice them all in half so you have a bunch of bottoms and a bunch of tops.
Place a bottom into each of your jars. Then take your pastry bag of icing and pipe in a dollop of frosting. (No pastry bag? Scooping in a dollop with a spoon works too! I have also wondered if it would be a neat idea to add a spoonful of filling in this step instead of the frosting but haven't tried it yet! I'm not sure if it would still look as pretty but it may be worth trying some cherry, strawberry or lemon curd filling here too!)
Need a frosting recipe? Here are some highly rated recipes!
Now, place the top of the cupcake onto your frosting dollop and gently press it so the frosting spreads/smooshes out. (Make sure when you add frosting in the previous step that you put in enough! When you add the top of the cupcake it needs to smoosh/spreads out enough so that you can see a pretty layer of frosting from the outside of the jar! ) Gently flatten/smash the top of the cupcake so it is more flat and less rounded. This helps when adding frosting in the last step and gives the cupcake in a jar a neat layered look from the outside!
Pipe a swirly dollop of frosting on top with your decorative frosting tip (or spoon it in if you are without the bag and tips). Then you can add some pretty colored sprinkles, chopped nuts, sugar crystals…Anything  you want that would further customize your cute cupcake favor.
When that's all done screw on the lid and you are ready for the finishing touches! Add a personalized favor label to the lid of the jar or hang a personalized favor tag to the jar when you tie on the wooden spoon. That's it!
Cupcakes in a Jar are a fun, whimsy (not to mention DELICIOUS) favor idea for your big day. Your guests will be so excited to see their very own cupcake concoction waiting for them at their seat or arranged pretty on a favor table. Some guests may dig in right away (how could they resist?) or they may save it for later when they have danced the night away and want something yummy on their way home. Cupcakes in a Jar are tasty and so easily customized to fit your big day and you both as a couple. They are guaranteed to wow your guests – young and old!
As always if you use our instructions to make up your own jars of deliciousness we want to see pics! 🙂 Keep calm and cupcake in a jar on!
Note – Some photos show more layers in their jars – You can do this if you want, it is just a matter of preference! I figured the single layer would be just as tasty and save you some time but if you want to add more layers just cut the cupcake into thirds and repeat the layering steps! 🙂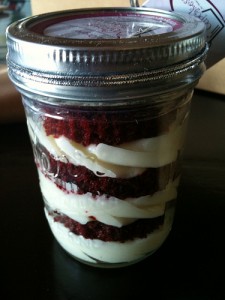 credit – rbkcupcakes on flickr.com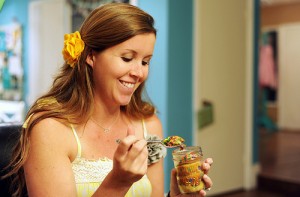 credit – angryjuliemonday on flickr.com