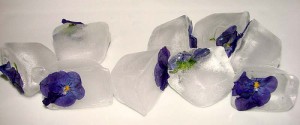 credit: boomette1 on flickr.com
Floral/Flower Ice Cubes would make a great personal detail for your wedding day! It would be perfect for a spring or summer wedding, especially if your wedding theme is garden related. They are extremely easy and affordable to make, and can be customized more specifically to your wedding theme with your choice of flowers and even food coloring.
The cubes can be added to drinks and cocktails (maybe dress up your signature cocktail?), added to punch and more..be creative!
Flowers can be found in your own garden, your local farmer's market or even your grocery store. Just make sure the flowers haven't been treated with any chemicals or pesticides, and they are safe to ingest (See chart below!)
You will need…
Edible flowers that have not been sprayed or treated (Pansies, violas, wallflowers, lobelia, and miniature roses work nicely. You can also use just petals from larger flowers such as rose petals, just be sure the flowers are non-toxic! Here is a great chart about edible flowers for reference. )
Water (I'm personally fine with tap water, but you can use filtered or bottled water too!)
Ice cube trays (Regular ones work fine and look beautiful! If you are feeling extra creative you can also use the shaped ice cube trays, such as hearts or stars, depending on your wedding theme.)
Optional – Food coloring
That's all you need..here we go! 🙂
If you are going to color the water for your ice cubes you will want to do this first! This isn't necessary as the flowers being frozen inside each little cube are more than beautiful enough to stand on their own. Some, however, want to further incorporate their wedding colors into the cubes..and this is one way of doing it! I suggest taking a large plastic container like a gallon milk jug, filling it with water and gradually adding food coloring one drop at a time and shaking the color in until you reach the color you are seeking. You don't want a lot of color..you still want the flowers beauty to show through in the cube..but a slight hint of pink..green..blue (any color you like!) can be a creative addition to your cube.
Next, fill your ice cube trays half way with your water and freeze until firm.
Now, add your choice of small edible flower or flower petal to each cube compartment and cover with more water.
Freeze again until firm..and they are ready to go! You can either serve them immediately or put them in large zip-loc freezer bags to save until you need them.
As long as you have the freezer space, these ice cubes are a gorgeous little detail for your wedding reception. There are so many different colors of flowers and food colorings that the possibilities are endless when it comes to coordinating these cubes to your wedding theme.
We'd love to hear your your creative combinations for these cubes..and of course if you make them we want to see pics!