credit: Rebecca Margaret on flickr.com
To beautifully accompany the previous post's craft – a flower girl ribbon streamer, I thought following up with how to make some whimsical handmade fairy wings for your flower girl would be perfect! These do it yourself wings are very easy to make and are very customizable. They can be painted in any way you like, made any size you wish and can be shaped any way your heart desires. They can be made as simple or as detailed as you see fit for your big day.
To begin, you will need…
14-18 gauge steel wire (easy to bend, but not so easy that it will lose shape!)
Wire Cutters
Duct Tape
Pantyhose, Colored tights or sheer material (sheer material will probably require sewing though!)
Clear Elastic
Sewing Materials – Needle and thread
Black or Colored Tape (optional, for wrapping wire)
Things for decorating! For wing color, fabric paints or halloween colored hairspray work great! Additional decorative details may include ribbons, gems and more..use your imagination!
To create your wings..
You will start off with shaping your wings. You can make them in the shape of anything you wish! Some ideas may be butterfly wings or dragonfly wings. There are some sites online that are great for ideas and inspiration. Search fairy wings or flower fairy on any search engine I'm sure you'll find some great ones. If you decide you want to wrap the wire with black or colored tape, do so now, before shaping. Next, shape your wings! Bend the wire in any way you see fit. You can make large loops of wire and then attach them with duct tape or you can twist the wire between loops (sort of like twisting a figure eight). The amount of loops and where connections are will depend on what style wing you choose to create. It's all pretty straight forward though! Just follow the image you liked for inspiration and do your best to shape that with your wire. For example, if you are doing a butterfly with only one large wing on each side you will need 2 large shaped loops either attached with duct tape or twisted in center of the back. If you are doing a more elaborate style like a dragonfly, you will probably end up making four large loops. Let your creative mind be your guide!
Once you have shaped your wings and closed/attached the loops with duct tape you will be ready to cover your wings. If you are using pantyhose or tights, cut a leg off and carefully stretch it over your first shaped loop. Pull taut and either knot tightly or sew the fabric securely to the wire structure. If you are using sheer fabric you will need to trim the fabric in the shape of the wing or loop, leaving 1/4″ excess fabric around the edge. Then simply wrap the material over the wire and hand stitch the fabric onto the structure. If you wish, you can now sew fabric over the center/spine area to hide any wire and make the wings more uniform visually.
Next, add some straps for wearing! You will need 2 feet of clear elastic, one foot for each side. Sew each end to the center/spine area of the wings (If you are being creative with your wings and they are oddly shaped, eyeball it! You may want the straps higher or lower..depending on what shape you are using.) If you used pantyhose or tights ad knotted the fabric in the center, you can sew the elastic straps to the knots.
Lastly, decorate your wings! If you are painting your wings, use the fabric paint or halloween hairspray to color your wings as you see fit. Then, glue and adorn your wings with any gems, ribbons and doodads you wish to make your handmade wings unique and customized.
That's it! Just following these 4 easy steps you can create beautiful whimsy wings for the flower girl(s) in your wedding. They are an adorable addition to your wedding day, allowing you to customize your flower girl attire more to fit your theme or color scheme.
Be sure to send any pictures our way if you create some wings for your flower girls. We want to see! 🙂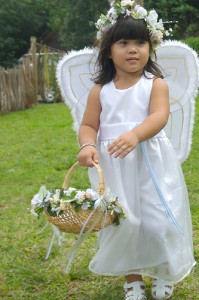 credit: bob fox photographer on flickr.com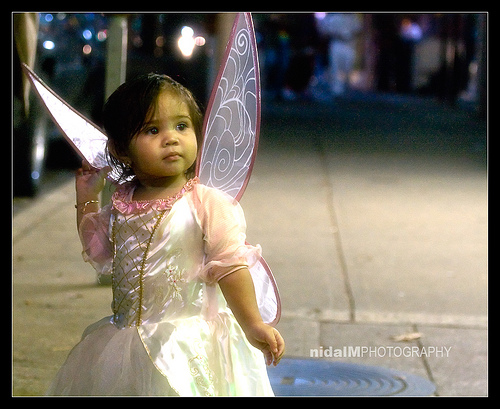 credit: nidaIM on flickr.com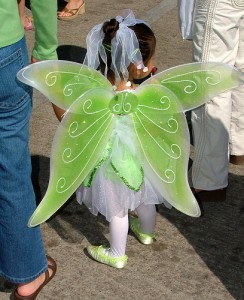 credit: Tosawyer on flickr.com